Streaming services have become an integral part of televisions today, with the affectionately labeled "dumb TVs" becoming harder to find among the many smart options. Amazon and Sky have taken the idea of ​​smart TV one step further by implementing their respective entertainment platforms in these reasonably priced QLED models.
Amazon has integrated its hugely popular Fire TV streaming technology into Fire TV Omni QLED, the top model in its own series of TVs. It takes the apps and features you'd get from an Amazon Fire TV Stick and brings them to the fore as the TV's main interface.
Sky has taken a slightly different route by creating a subscription TV model with Sky Glass. This monthly entertainment hardware and services bundle includes a 4K QLED TV with access to Sky's live TV service and on-demand library. It's a unique proposition, which makes sense for those who want a no-frills, all-in-one solution.
Sky Glass has been around for about a year and a half now and has been thoroughly tested by our team of experts. The UK launch of the Fire TV Omni QLED was only announced last month, so we haven't put it through our full testing process yet. We've seen it in action, however, and can use that experience along with a deep dive into the specs to give an idea of ​​how it might stack up against rival Sky. And we'll of course update this page once we've received the Omni TV for its full comparison test.
Amazon Fire TV Omni QLED vs. Sky Glass: Price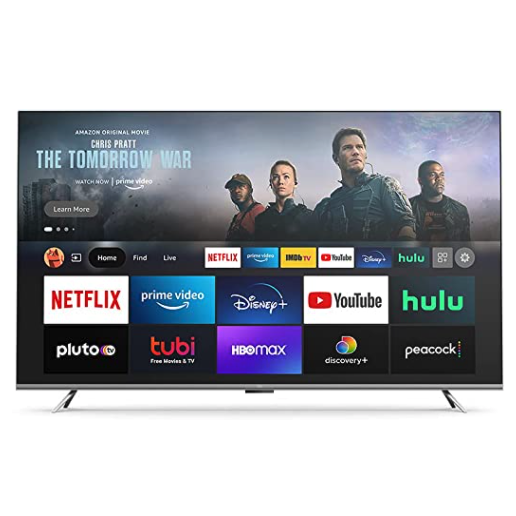 The Omni and the Glass are quite different propositions when it comes to purchase, so comparing them for price is a little tricky. The Fire TV is a standard one-time purchase from Amazon (and soon other select retailers). It costs £650/$530 for the 50-inch set, £650/$530 for the 55-inch and £1000/$800 for the 65-inch. However, Amazon is currently running a UK introductory deal, meaning you can get the smaller Omni for just £349 at the moment.
The Sky Glass, on the other hand, requires a monthly subscription along with a small upfront fee – think of it like a phone contract. All models require an initial charge of £10, with the 43-inch model at £14 per month, the 55-inch model £19 per month and the 65-inch model £24 per month. However, that monthly fee only covers hardware, so you'll need to add a Sky Entertainment package, which includes Netflix, on top of that. Sky is offering the first three months of that for free, but after that it's £26 a month for an 18-month contract or £29 for a rolling 31-day contract.
The Sky Glass is clearly more of a commitment – you'll need to be all-in on Sky if you want to go for the Glass. The Fire is the one for you if you're cold-blooded when it comes to TVs and don't want to be tied to a recurring payment service. That being said, the Fire Omni is super streaming-focused, especially when it comes to Amazon Prime content, so be prepared for some optional recurring costs.
It's also worth noting that Sky Glass is exclusive to the UK and neither is coming to Australia at this time. The Fire has been on sale in the US for about six months.
Amazon Fire TV Omni QLED vs. Sky Glass: Design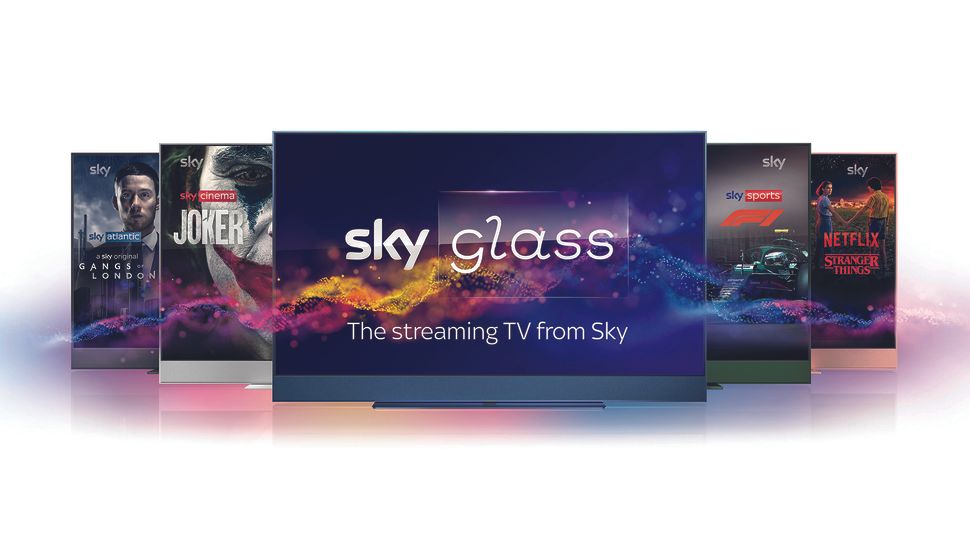 The Sky Glass is one of the sleekest TVs around. It's one of the few sets on the market that comes in a variety of colors (black, white, blue, green, or pink). There's also a hot-swappable speaker grille cover, allowing you to mix and match colors and designs, making this one of the most customizable TVs we've come across.
The glass is decidedly thick in its design, with squared edges reminiscent of the bold design language of Apple's latest iPhone and iPad. The bezels around the display are fairly thin, with the thick bottom edge housing the speaker system aside. The glass rests on a rectangular base which gives the TV a subtle floating effect. It's possible to wall mount the unit, although Sky warns this should be done by a professional installer – something to bear in mind.
The Glass comes in 43-inch, 55-inch, and 65-inch screen sizes, which Sky affectionately calls small, medium, and large. That's one less than the Amazon Fire TV Omni QLED, which comes in 43-, 50-, 55-, and 65-inch screen sizes, as well as a 77-inch model in the US.
The Omni QLED features a much more conventional design, with a pair of A-legs supporting the TV at either end. Its plastic body is only available in silver, and design-wise it's pretty unremarkable. It can be wall-mounted via a standard VESA mount, so it should be easier to install than glass.
Amazon Fire TV Omni QLED vs. Sky Glass: Features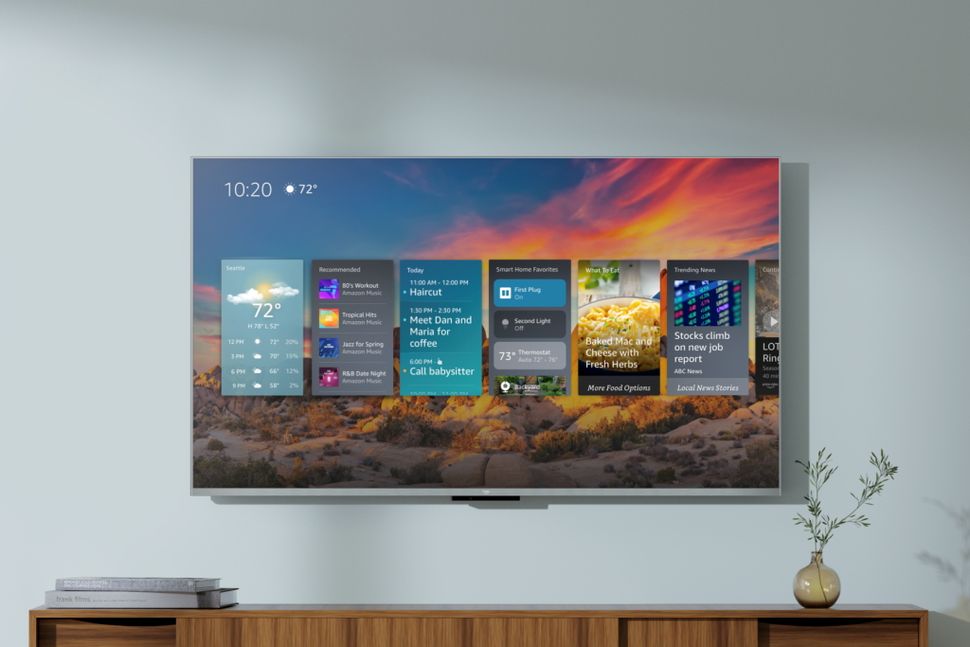 The two TVs have many similarities when it comes to picture features, including QLED panels running at 4K resolution. Both sets support HDR10, HLG and Dolby Vision HDR; the Fire TV gets additional support with HDR10+, as well as HDR10+ Adaptive and Dolby Vision IQ thanks to the included ambient light sensor.
Both TVs also offer plenty of audio features, although the Sky Glass looks more impressive on paper. It features a Dolby Atmos-certified speaker system in a 3.1.2 arrangement – three outward-firing speakers, a centralized subwoofer, and two up-firing speakers. In our review, we praise the Glass' sound performance given its price, with an overall impression of weight and depth, as well as a compelling approach to Atmos content. We haven't had a chance to test the Fire TV Omni QLED yet, but it supports Dolby Digital Plus natively, as well as Dolby Atmos via HDMI pass-through.
Speaking of HDMI, the Fire Omni has four sockets in total, with three HDMI 2.0 and one HDMI 2.1 with eARC. Impressively, Sky Glass has three HDMI 2.1 connections – one more than the top-end Sony A95K, which costs more than twice as much. Players shouldn't expect too much though; the glass is capped at 60Hz, as is the Fire Omni. There's no ALLM or VRR support on the glass either – in fact, there aren't really any gaming features at all. The Omni QLED gets a VRR between 48Hz and 60Hz; we asked Amazon if ALLM is supported.
Both TVs are heavily influenced by their software and services, of course. The Fire TV Omni uses Amazon's Fire OS operating system, the same as its Fire TV Sticks and Cube, with all the same streaming apps, including Prime Video, Netflix, Apple TV and Disney Plus, plus UK-specific apps such as BBC iPlayer and ITV X. You'll find that Amazon's products, services and content are largely featured on the Fire TV homepage, but other than that, compatibility should be just as good than existing streamers.
Amazon includes exclusive features for the Omni QLED, with the title being the Ambient Experience. This aims to make your set useful even when you're not using it as a TV, with informative widgets and custom content solutions displayed on various artwork, landscape photos, and even computer-generated artwork. 'IA. You'll also be able to chat with Alexa at any time through the TV's far-field microphones, making the Omni QLED a big Echo Show in this Ambient Experience mode.
The Glass uses Sky's own entertainment operating system user interface, which was developed specifically for the Glass and the Sky Stream. It also offers great app compatibility with no notable omissions. There's also a voice assistant similar to Alexa, which you can summon with a "Hey Sky" command, followed by a request to search or play certain content. The software is very Sky-centric, with playlist options aimed at Sky's own on-demand streaming platforms; However, third-party streaming apps are intertwined in the user interface.
Amazon Fire TV Omni QLED vs. Sky Glass: image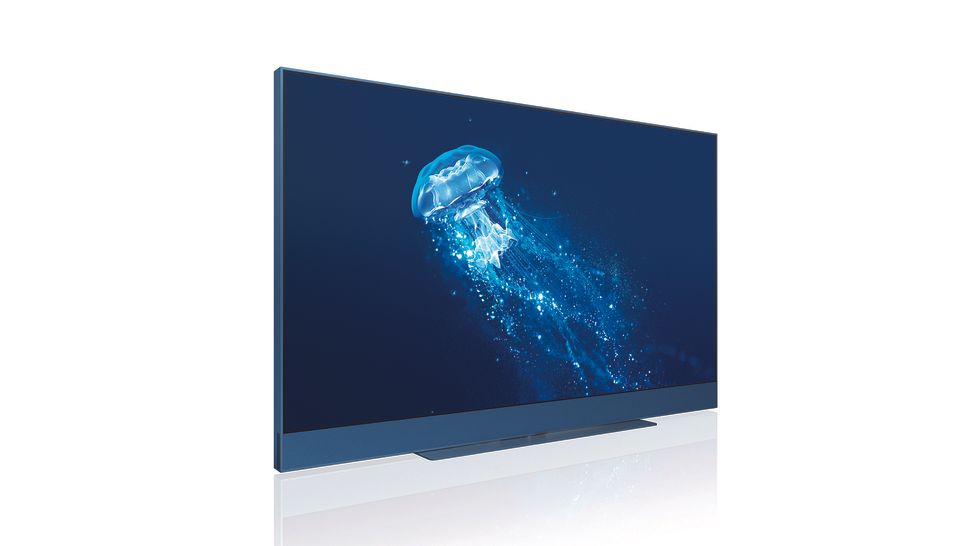 We can't properly judge the Omni QLED's picture capabilities yet, as we've only briefly seen it in the flesh. Be sure to come back here once our full review goes live to see how these TVs compare in the picture department.
We do know, however, that Sky Glass produces a decent image for the money. While it doesn't rival the best OLEDs when it comes to black depth or provide class-leading contrast, Sky Glass generally impresses in terms of image quality at this level. Skin tones look natural with reflected shadows and there's an overall cinematic feel when the TV is paired with the right content.
The glass isn't perfect, though. Motion takes a particular hit due to the lack of motion processing options, which can sometimes lead to the smearing effect characteristic of cheaper LCD sets. We note, however, that glass does not suffer from the dreaded soap opera effect. We also want the Glass picture to be a bit more vibrant, as colors can look a little washed out in brighter scenes – although we'd have to give the Sky some props so it doesn't go the way of some other TVs bit by bit. budget who over-sharpen and boost colors to compensate for their cheaper panels. Instead, the Glass takes a more balanced approach which we really appreciate.
Amazon Fire TV Omni QLED vs. Sky Glass: Verdict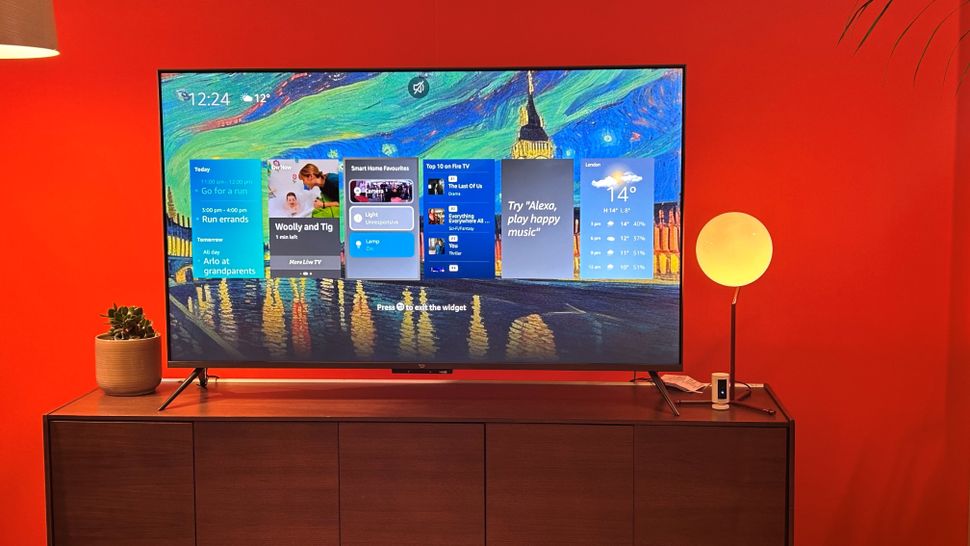 While we know exactly what we think of Sky Glass, it's too early to form an opinion on the Amazon Fire TV Omni QLED. Seems like a pretty decent value proposition right now, but we can't say for sure how it'll stack up when it comes to sound and picture.
However, there's an easy way to choose between these TVs, and that's to decide if you want Sky TV. If you do, then glass is for you; if you don't, go for the Omni QLED. You can use Glass without Sky TV, but the technology is so ingrained in the device that we wouldn't really recommend it.
There are plenty of affordable QLED sets on the market, such as TCL and Hisense, and the Omni adds fuel to the fire. The Amazon bundle also has the benefit of being a one-time purchase that's complemented by the streaming services you want to choose from.
MORE:
Read our full Sky Glass Reviews
As well as our Amazon Fire TV Omni QLED hands-on review
Discover our choices for the best tvs
#Amazon #Fire #Omni #Sky #Glass #streaming #QLED