Mathieu van der Poel took a jubilant solo victory in the 2023 men's edition of Paris-Roubaix, but had it not been for a puncture at Carrefour de l'Arbre, he might have had to face Wout van Aert for the final sprint.
Van Aert punctured in the last kilometer of the infamous Carrefour de l'Arbre, while making what he hoped would be a winning attack.
He was forced to stop just beyond the sector for a wheel change, allowing Van der Poel – the only riders able to follow his acceleration – to cover the last 15 kilometers to the finish alone.
At the post-race press conference, Van der Poel acknowledged the critical cost of Van Aert's flat tire. "If he hasn't punctured, I imagine we'll go to the velodrome together," conceded the Dutch winner.
Van Aert was also convinced that the final situation of the race would have been different if the misfortune had not occurred at such a critical moment in the race.
"You never know how it goes, but when I flattened out I was just attacking," Van Aert said after the race.
"I took the left hand around the Carrefour and then I almost slipped because my rear tire punctured. So yes, the whole last kilometer of the sector was already on a punctured tire.
"I was actually myself and felt really strong, and even on a flat rear tire I finished the sector almost on its wheel. So I think I had the legs to do more, It's certain."
Van Aert launched an aggressive chase into the Roubaix velodrome despite the considerable margin established by the wheel change. He dropped Filippo Ganna, Mads Pedersen and Stefan Kung, but couldn't get rid of Van der Poel's teammate Jasper Philipsen, who sprinted him out for second place.
"It's not over until it's over," Van Aert said with a smile after the race. "I mean just because I have a flat tire at Carrefour doesn't mean the race is over yet, and I'm trying to keep a cool head and I'm fighting until the end.
"Maybe I was also the only one in the group fighting for the win and not riding for second place, so I'm happy to be on the podium.
"It's a shame it could have been a different final of course," he added. "Imagine that Mathieu has a puncture at the front and that you have already retired after your own puncture. It would be a shame, and it also doesn't make sense to retire right away because there is still a good result. I think how good I am, I just want to leave it on the road and see the result afterwards."
Luck does not shine on Jumbo-Visma
Misfortune was the story of the day for Jumbo-Visma. Van Aert had already had a puncture, without consequence earlier in the race, but the Trouée d'Arenberg did not see the Dutch team in a good light.
Christophe Laporte was dropped from the leading group that Van Aert had just forced out, following a puncture in the dreaded cobbled section, while defending champion Dylan van Baarle crashed into the group behind.
"It's a classic Roubaix scenario. [It] it looks like you're making a good move, and suddenly in two minutes everything goes upside down," Van Aert said.
"It would have been better of course with maybe an extra guy in front of us. But still me and Christophe were there in a small group. And yes, suddenly after Arenberg I saw that Christophe was no longer there. At the time I didn't know of course, I assumed it had a mechanic but it wasn't clear. We also didn't know how far behind he was."
Suddenly Van Aert was isolated while Van der Poel had two teammates from Alpecin-Deceuninck to support him in the main 12-man break of the race. His isolation gave him the advantage of not having to work during the break, putting more pressure on Van der Poel's side to hold off the main peloton.
"I tried to stay calm and then at the back, I think my teammates kept trying to put the pressure on, so it wasn't my responsibility to hold the break," Van Aert said.
"In the end it was good for me, but the moment I chose to attack, I flattened out."
Paris-Roubaix marks the end of Van Aert's classic season, as he will now focus on the team's summer of racing. He left Paris-Roubaix on a high note, considering the race and the wider Classics season a success.
"I think every race is historic and it would be a real shame to call it a failure. I mean the way we raced makes me proud."
"A lot of bad luck in crucial moments"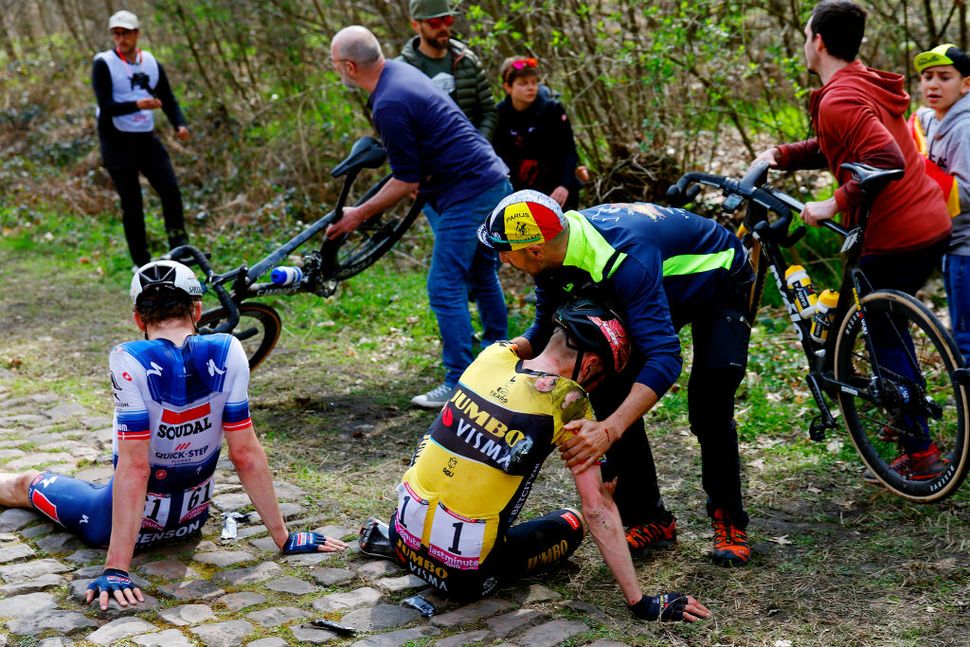 As Van Aert spoke at a post-race press conference in front of the Jumbo-Visma team bus, sporting director Arthur van Dongen said Cycling news that yes, bad luck strikes a lot in Paris-Roubaix, but that bad luck strikes them at crucial moments.
"Of course we are disappointed today because we were hit with a lot of bad luck in crucial moments," said Van Dongen. "The other teams also have a lot of bad luck but it was in really crucial moments and it made the difference in the end that we couldn't sprint for the victory on the velodrome.
"We lost Dylan van Baarle at Arenberg and then we lost Christophe Laporte leading the race with a puncture. Those were really crucial decisive moments."
Van Dongen said Van Baarle – listed in the post-race injury report as having suffered 'head trauma' and a 'forehead injury' – was being examined at Valenciennes hospital but should be fine , while he also said Laporte's puncture was unrelated to their new tire pressure system.
Although the two secondary leaders lost contact with the front of the race, the team was still able to switch gears with revised tactics, and they still had Van Aert in the elite leading group of seven. as well – at least before disaster struck the Carrefour. of the tree.
"Then we could put some pressure on the leading group with Nathan Van Hooydonck and Christophe so that Wout can hang on most of the time," said Van Dongen, referring to the counterattack launched 20km later. Arenberg.
"But at the end [Wout] attacked and you saw what happened. It was really disappointing.
"He was still very fresh, and he attacked on that last cobblestone sector in Roubaix and dropped Mads Pedersen. Wout was still very good."
#legs #Wout #van #Aert #lost #chance #ParisRoubaix #puncture